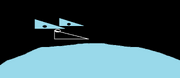 Angry Regular Show birds Space is a crossover with Angry Birds Space and the Cartoon Network show Regular Show. Read more below.
Mordecai Bird - Splits into three then bomerangs back. Mix of Blue Birds and Super Green Bird.
Rigby Bird - Locks on target. Spoof of the Lazer Bird.
Benson Bird - Drops explosive gumballs. Spoof of the Bomb.
Skips Bird - Yells caw-caw. Mix of Super Red Bird and Terence.
High Five Ghost Bird - Drops explosive hi five hand. Spoof of the Super White Bird.
Margaret Bird - Bubble-wraps everything. Spoof of the Super Pink Bird.
Pops Bird -Inflates. Mix of the Space Orange Bird and Atomic Bird.
Small Muscle Man pig
Medium Muscle Man pig
Large Muscle Man pig
Helmet Muscle Man pig
Mustache Muscle Man pig
King Muscle Man pig
Fat Muscle Man pig
After the Regular Show Space Flock defeats the Muscle Pigs in constant battle, they have forgot about the King Muscle Man Pig!
1: YOU'R FIRED!!!
2: Oh no bro!
3: The dougnut planet!
4: I've seen this before
5: Skips vs. The muscle pigs
6: Escape from Ninja Dojo!
7: Shut you'r mouthhole!
Exclusive: Park tropheys